I love slow cooker recipes… because I'm lazy, and slow cooker recipes are very forgiving. My favorites involve just a handful of ingredients that get dumped into the crock before walking away for hours, and this soup is no exception. It's perfect for autumn days where the temperature is dropping and you want to cozy up in your blanket and not worry about cooking. It even keeps well in the refrigerator and tastes just as good reheated as it does fresh!
This soup is super-easy; it uses mostly canned ingredients, and the most time-consuming task is chopping up an onion and pepper. This recipe makes a milder soup, but you can substitute in spicy enchilada sauce, a can of "hot" or "Mexican-style" tomatoes, or add a can of diced green chilis for more heat.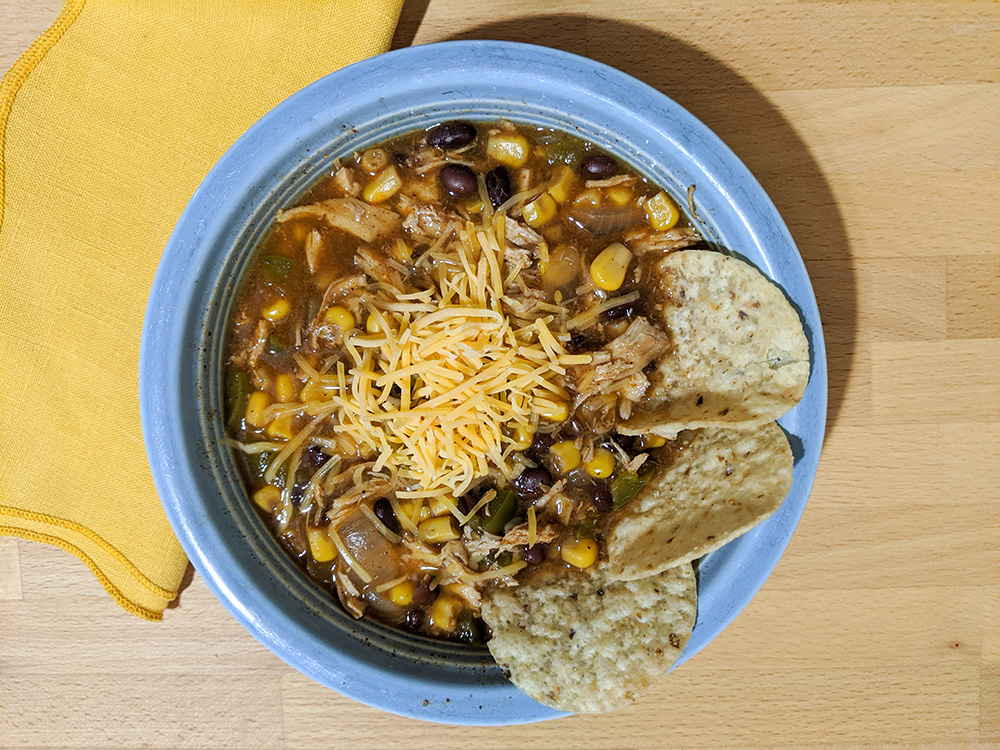 Ingredients
2-3 boneless, skinless chicken breasts (about 2 pounds)
1 can diced tomatoes (about 14oz)
1 can black beans, rinsed (about 15oz)
1 can corn kernels (about 15oz)
1 large green pepper, cored/seeded and chopped
1 medium onion, peeled and chopped
2 cups chicken stock
1/2 can red mild enchilada sauce (about 10oz)
2 tsp chili powder
1/2 tsp garlic powder
1 tsp salt (I prefer sea salt)
1/2 tsp black pepper, ground
Suggested Toppings
crumbled tortilla chips
tortilla strips
shredded cheese (cheddar, "Mexican" blend, queso fresco)
sliced or cubed avocado
sour cream
sliced black olives
Instructions
Place the chicken breasts in the bottom of the slow cooker.
Sprinkle chili powder, garlic powder, salt, and pepper on top of the chicken.
Add the corn kernels, black beans, tomatoes, onion and green pepper to the slow cooker.
Add the red enchilada sauce and chicken stock to the slow cooker. Give the sauce/stock and vegetables a stir, trying not to disturb the chicken.
Cook on low for 5-6 hours, or on high for 3-4 hours. You'll know it's done when the chicken starts to fall apart.
Remove the chicken and shred it with a fork (or two!). Return the chicken to the slow cooker and stir thoroughly.
Set slow cooker to low/warm (if necessary) and prepare soup toppings.
Serve soup in shallow bowls, plain or with whatever toppings you enjoy.
Makes four to six servings.