I asked on Instagram at the beginning of this past week if anyone would be interested in seeing my dinners — at least three people wanted to see them, so here they are! It's easier to share on the blog than to write a long, long Instagram post, plus I can give out links to recipes and go into more detail than I would if I were posting on social media. I tried out a bunch of new recipes this week, with good results! Definitely adding a couple of these to my dinner rotation.
Monday, Tuesday, Friday, and Saturday dinners at my house feed two adults and a grade schooler; dinner on Wednesday and Thursday is for two adults only. A decent amount of leftover ham went to my parents' house for them to have for dinner on Tuesday, while still affording us leftovers and enough to make ham sliders for Saturday. I also usually eat dinner leftovers for lunch during the workday.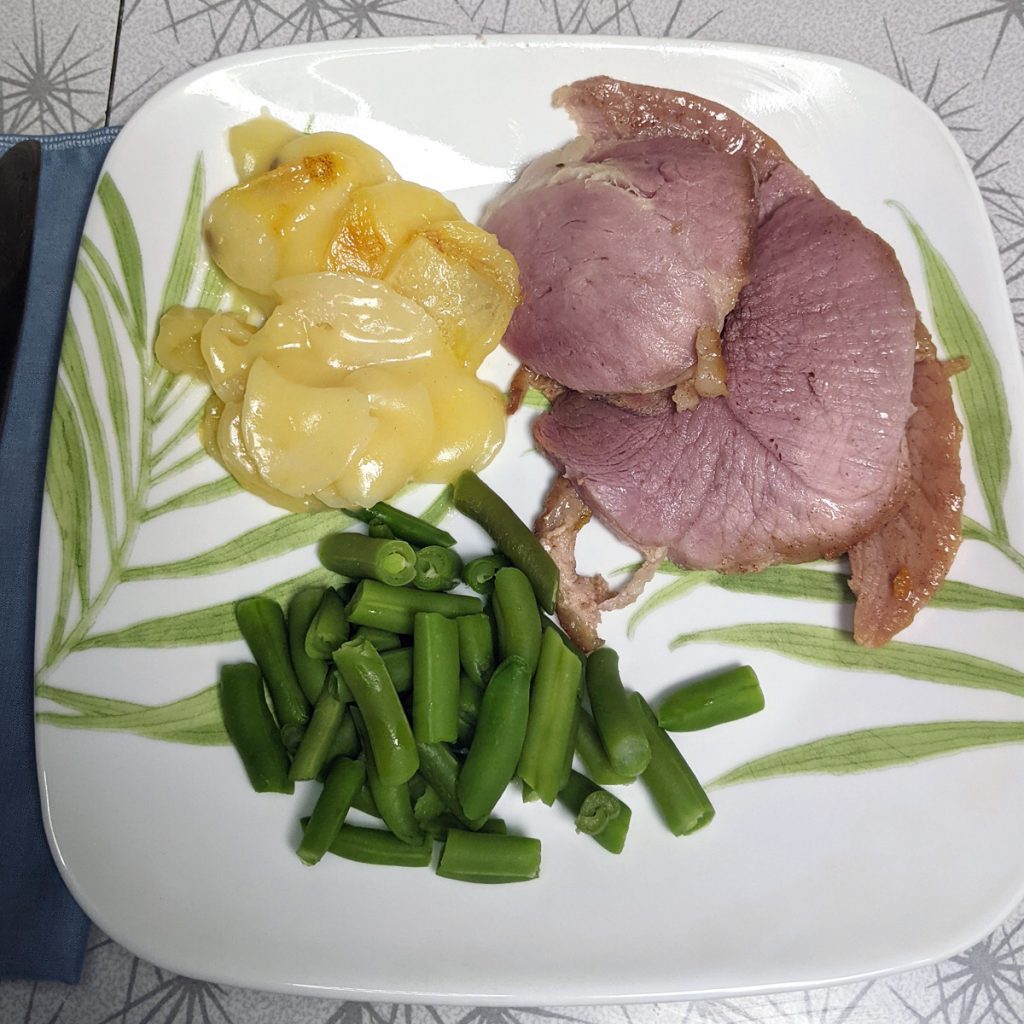 Monday: Orange-Glazed Ham, Potatoes Au Gratin, and Green Beans
The first thing I do with a ham is throw out the glaze packet it comes with and make my own. Get the recipe for the orange glaze here. Honestly, I wasn't planning on doing a fancy glaze, but it sounded good and I went for it (plus I still had a sad orange sitting around from Christmas, and I had orange juice in the fridge). I don't know if I'd do the orange glaze again… it wasn't bad by any stretch of the imagination, but I think I prefer a more traditional brown sugar glaze. My boyfriend agrees with me about the orange, so our next ham will probably go back to brown sugar only. If you're into fruity glazes, the orange was definitely good (and very flavorful) — I just don't think it's for us. The potatoes were made from a box, and the green beans were leftovers from a couple days before.
Tuesday: Slow Cooker Taco Chicken Soup, Southwest Salad, and Corn Bread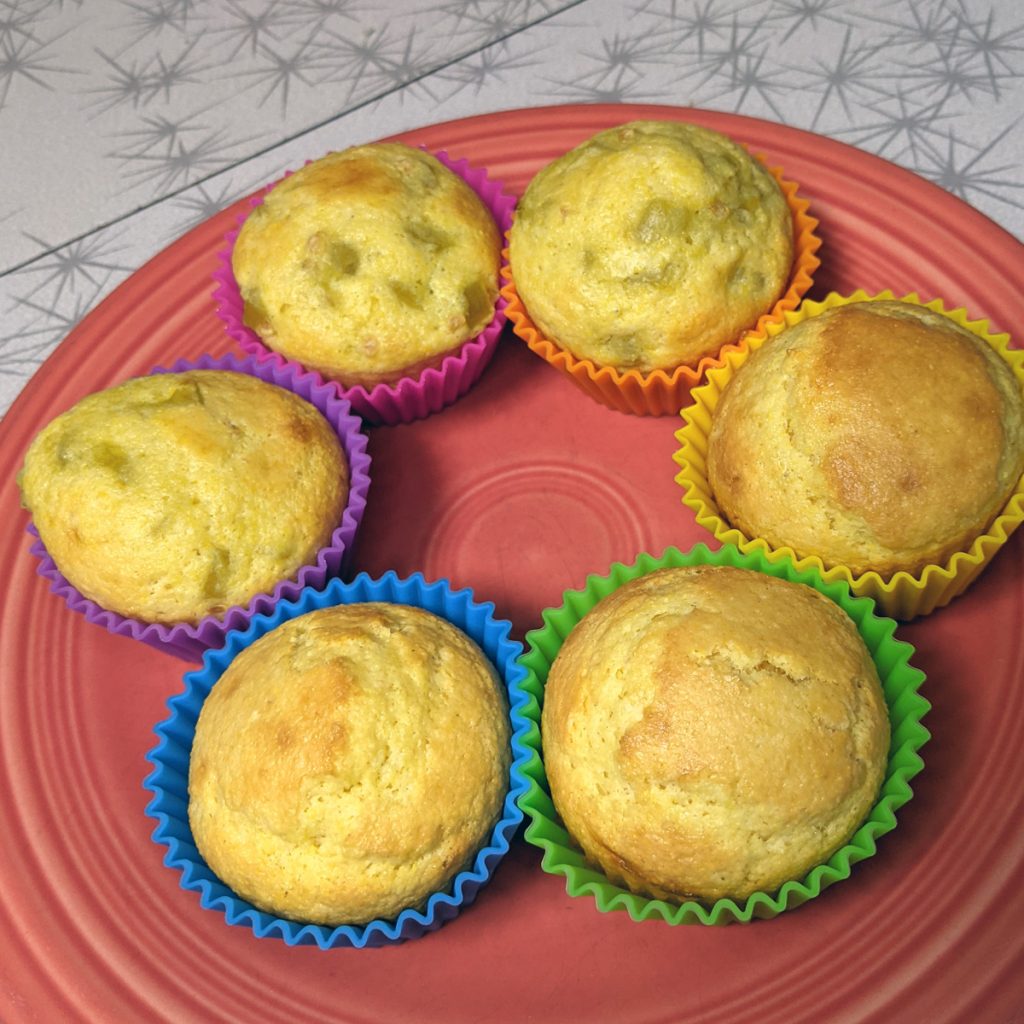 The salad was just a bagged mix from Aldi. The corn bread was made from a standard packet of Jiffy corn bread mix, except I added some leftover diced green chiles to three of the muffins (for the adults). The silicone muffin liners are from Amazon ($8); they are much better than paper liners for baking muffins because they peel off cleanly even when the muffin is still warm… not to mention they're reusable and won't end up in a landfill!
Find the recipe for the slow cooker chicken taco soup here. Mine looks different because, as I was dumping the ingredients into the slow cooker, I discovered I didn't have a packet of ranch dressing mix. I keep a few packets of various things on-hand for times I run out of dressing or don't have enough drippings to make a gravy, but I didn't have a single ranch packet. Instead of the ranch + 3tbsp of taco seasoning, I used an entire packet of taco seasoning. The end result was orange and very taco-y, but it tasted great! That's the nice thing about slow cooker recipes: they are extremely forgiving. Instead of the Ro-tel, I used a 14oz can of diced tomatoes, and half a can of diced green chiles, so my soup is also just a little bit more tomato-y than the recipe. I halved all the ingredients because it seemed like would make a lot of soup — even making half a batch, we had enough for my boyfriend to have two servings, and a couple days of leftovers for lunch. I served the soup with shredded cheddar cheese, sour cream, and sliced avocado available for toppings.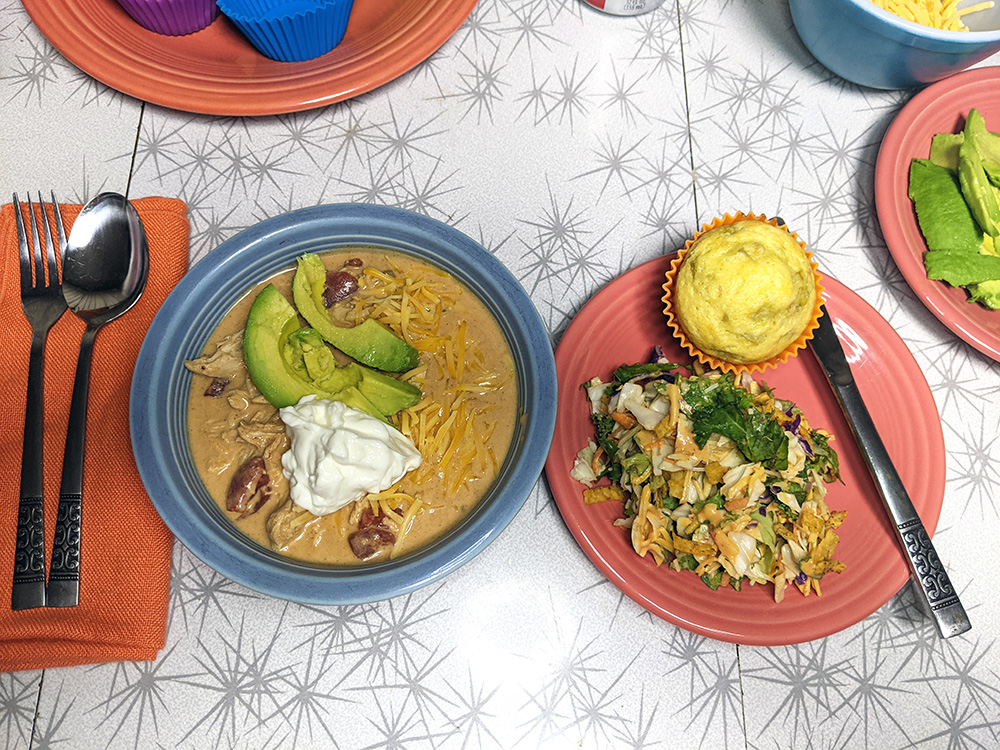 If you're looking for a non-creamy southwest-style soup, try my slow cooker chicken enchilada soup!
Wednesday: Sad Chicken Sandwich, Saltine Crackers
This was supposed to be the night for "honey garlic shrimp & broccoli with pasta/cauliflower rice", but life had other plans. Dave didn't feel great and neither did I (stomach trouble for him, reproductive system trouble for me), so he picked up a box of saltine crackers on the way home and we basically grazed on whatever we felt like eating.
I eventually heated up a frozen chicken breast ("red bag chicken" from Aldi, which tastes kind of like copycat Chick-Fil-A), sandwiched it in a slice of keto bread with some pickles, and had that for my "dinner" while Dave had some cheese and saltines. Not the most impressive of weeknight dinner strategies, but it happens.
Thursday: Takeout Pizza
At least both Dave and I were hungry this time. I just wanted carbs (even though I'm supposed to be on a lower-carb diet) and Dave wanted junk food… that's how you know you're getting over that "I don't want to eat" feeling! We had agreed to go over to my parents' house to fix one of their drawer units, so we did that and ordered a pizza to pick up on the way home. We also binge-watched way too many episodes of The Good Place — at one point, Dave was like, "it's late, we should go to bed" — but it turned out to only be 9 PM, so we stayed up late for real and watched six more episodes… on a work night.
Sometimes, we're not the best at adult decision-making. At least the pizza was delicious (and we had a 30% off coupon).
Friday: Smoked Sausage Sheet Pan Dinner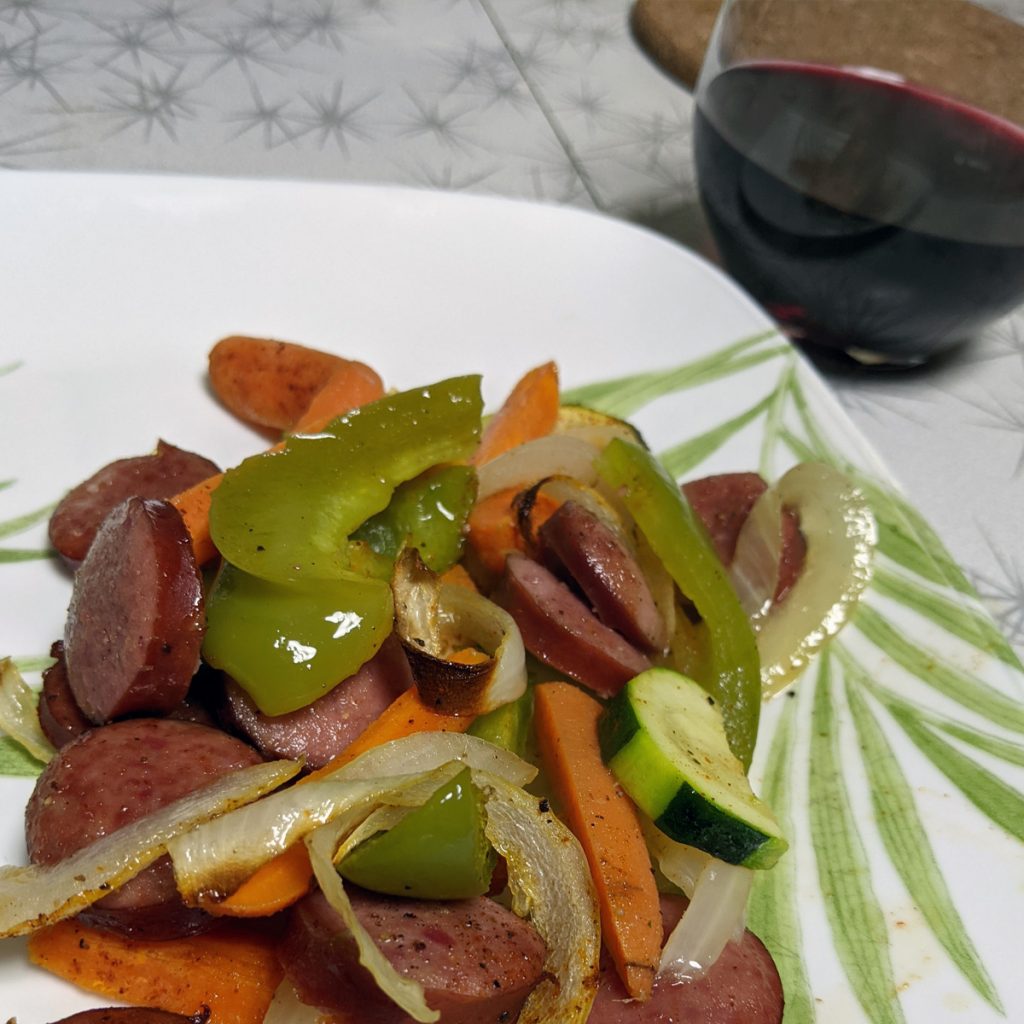 Dave has dinner with his kids on Friday night, so it was just P and I for dinner. I picked him up from my parents' house after work and considered my options now that my carefully-planned meals had gone out the window. I could have made the honey garlic shrimp & broccoli, but I knew Dave had been looking forward to it, so I decided to save it for dinner on Saturday. Instead, I threw together a sheet pan dinner.
Sheet pan dinners are a lifesaver when you lack time and imagination. All you need is an assortment of vegetables (preferably including some sort of root vegetable), some kind of meat/protein, some cooking oil, and spices… throw it all together on a sheet pan, roast it, and you have dinner!
I usually keep a smoked sausage in my refrigerator drawer for emergency sheet pan nights. They keep for a long time in the fridge, taste amazing roasted, and are super easy to include on a sheet pan because they're pre-cooked. I included half an onion and half a zucchini (leftovers I found in the fridge), some quartered baby carrots, and a sliced green pepper on the pan, tossed everything in a drizzle of extra-virgin olive oil, and used salt and pepper to taste. Before roasting, I dusted the sheet pan with some paprika, then baked the pan at 375F until the vegetables were done. Quick, easy, and delicious dinner!
Saturday: Honey Garlic Butter Shrimp & Broccoli with Pasta/Cauliflower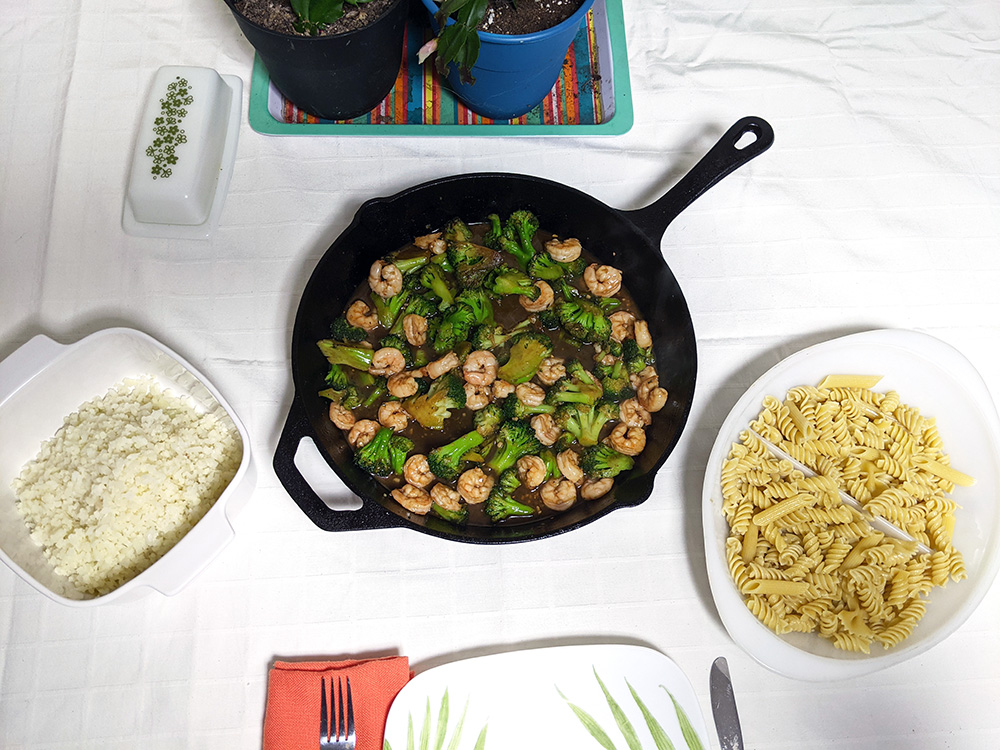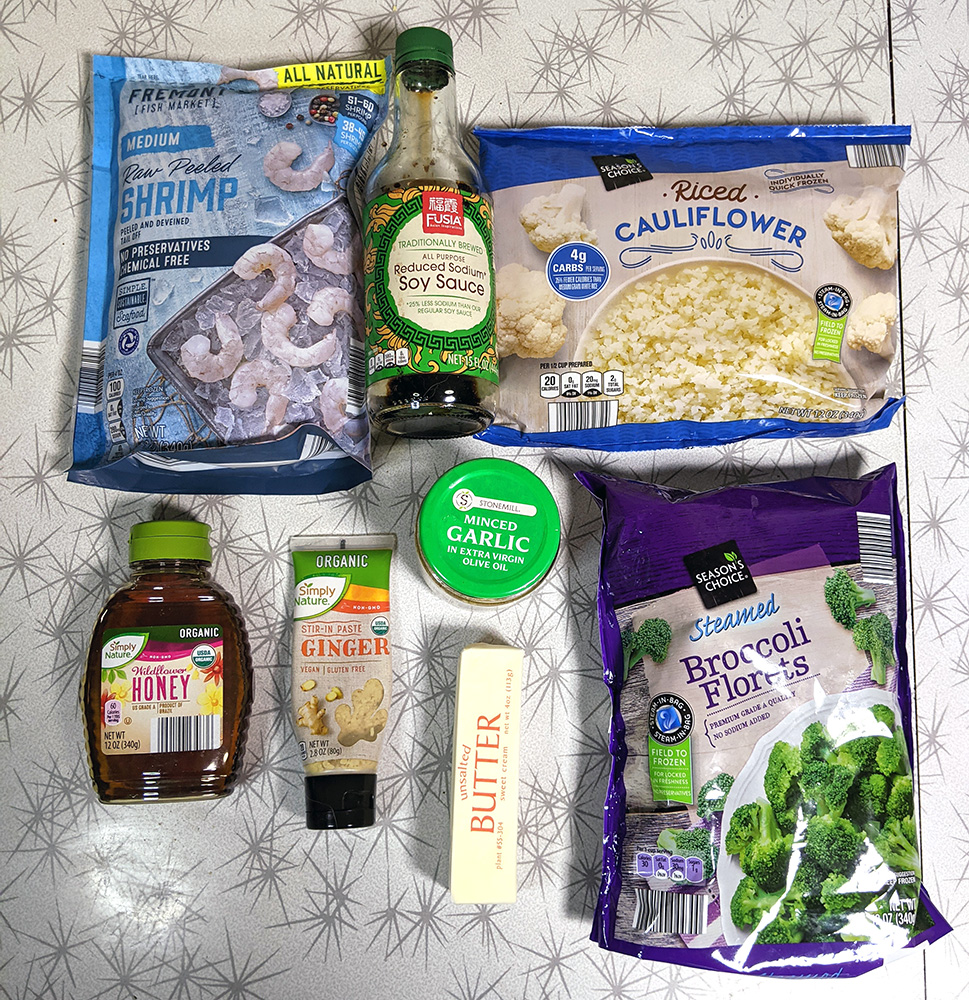 I had found this recipe on Pinterest and decided I wanted to try it out. I don't usually cook seafood because I can't each much of it, but I can handle eating shrimp (about 4 to 6 large shrimp, to be precise). Dave and P love shrimp, however, and I thought they'd appreciate something new.
This dish came together really easily and tasted great! Both Dave and P liked it and suggested it be added to the dinner rotation. I used medium shrimp because that was what was available when I went shopping, but next time hopefully the jumbo-size raw shrimp will be stock because I felt like the medium shrimp cooked down a bit small. Dave said he liked that because they were bite-size, but the smaller shrimp made me so nervous while cooking because shrimp is notoriously easy to overcook. I made pasta to go with it for Dave and P, and microwaved a steam-pack of cauliflower rice for myself as a side.
Sunday: Broccoli Cheddar Soup & Hawaiian Ham Sliders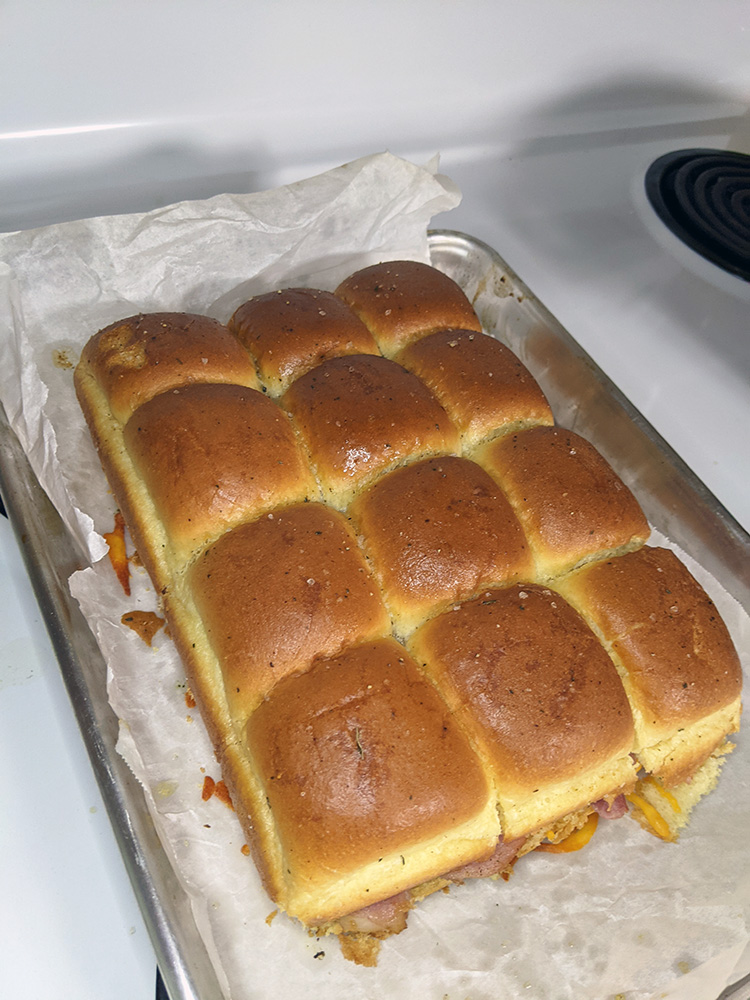 Whenever I swing by my local Walmart, I check out the bakery section. Often, the store puts out a few baker's racks with items at a discount since they're going out-of-date. I saw packages of Hawaiian rolls on the rack at the store, and thought that sliders sounded like a good idea to use up some of the leftover ham!
I also had wanted to make broccoli cheddar soup for awhile, so I looked up this recipe from The Chunky Chef, and got to it. Instead of using an immersion blender at the end, I used a food processor at the start so that my veggies were already shredded. I went a little overboard on the broccoli, but that just means it's healthy… right?! I also didn't have half-and-half, so I used whole milk instead. It came out pretty good, but next time, I'll go a bit easier on the broccoli and add another handful of cheese to the soup. This recipe also made a lot of soup — I have a full quart container of leftover soup in the fridge for lunches this week.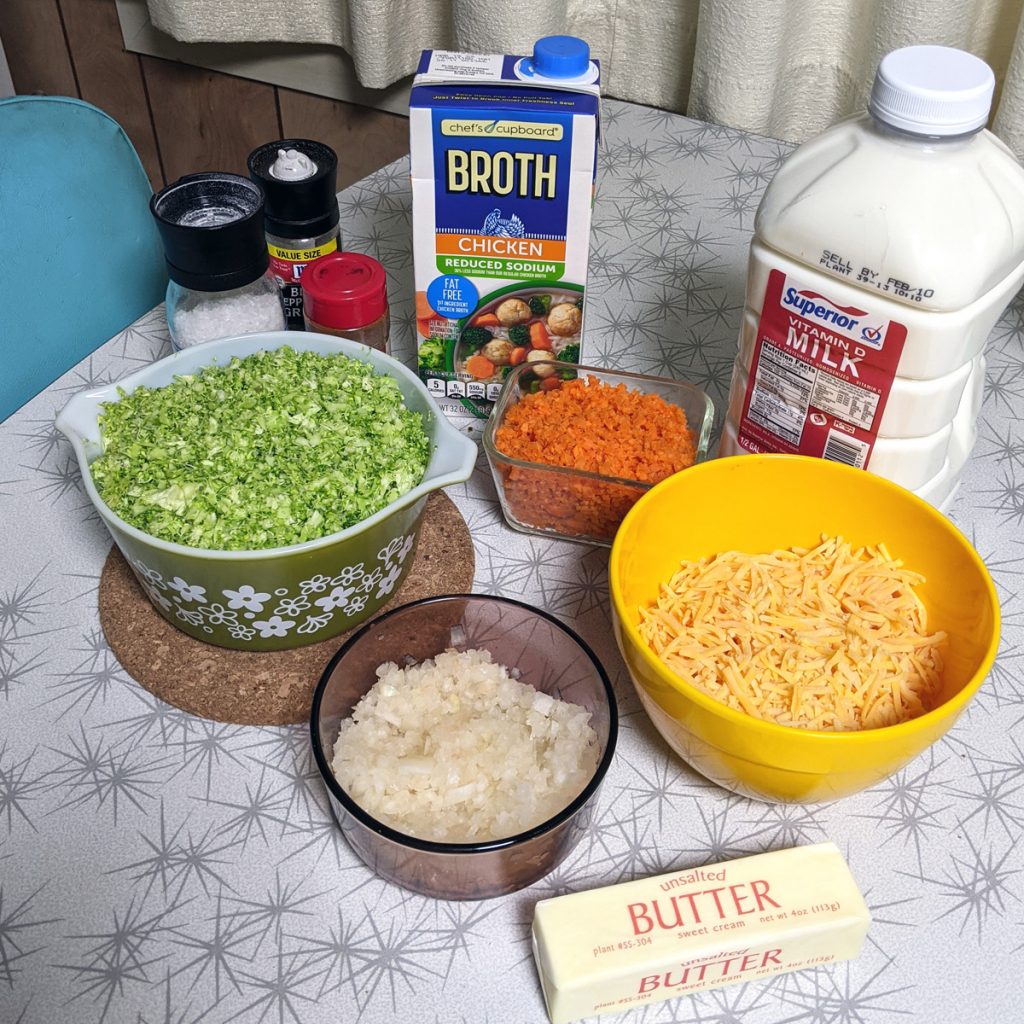 ---
As an Amazon Associate I earn from qualifying purchases, and receive commission payments for purchases made through Amazon links in this post.