My boyfriend, Dave, came home from his parents' house the other day with a hugebag of peaches. Turns out his parents get fresh Georgia peaches from a truck each summer. We ended up with more peaches than we could possibly eat fresh in a short amount of time, so I made some of them into a peach pie. I've made plenty of fruit pies before, but never a peach one… it turned out pretty well!
I recommend making a crust from scratch for a fruit pie, and not doing a blind bake. Making crust from scratch really doesn't take that long, and only requires three ingredients (although you can get fancier if you want!). Not doing the blind bake sounds a little counterintuitive with a very juicy fresh-fruit pie, but it turned out wonderfully and the bottom of the pie wasn't soggy at all. Usually I use a more solid crust for the top of my pies, and I'd never made a lattice-top pie before this. It honestly it was kind of a pain in the butt, but the end result looked so pretty that it was worth it!
I started with the crust and fruit pie recipes out of the 1968 version of the Better Homes & Gardens New Cook Book, which, in my opinion, is the best cookbook ever written. It has a tremendous variety of recipes, clear instructions with helpful illustrations, and produces great-tasting food (admittedly, with little regard for modern health standards). What you see here are those recipes, modified from my experience with baking this and other fresh-fruit pies over the years.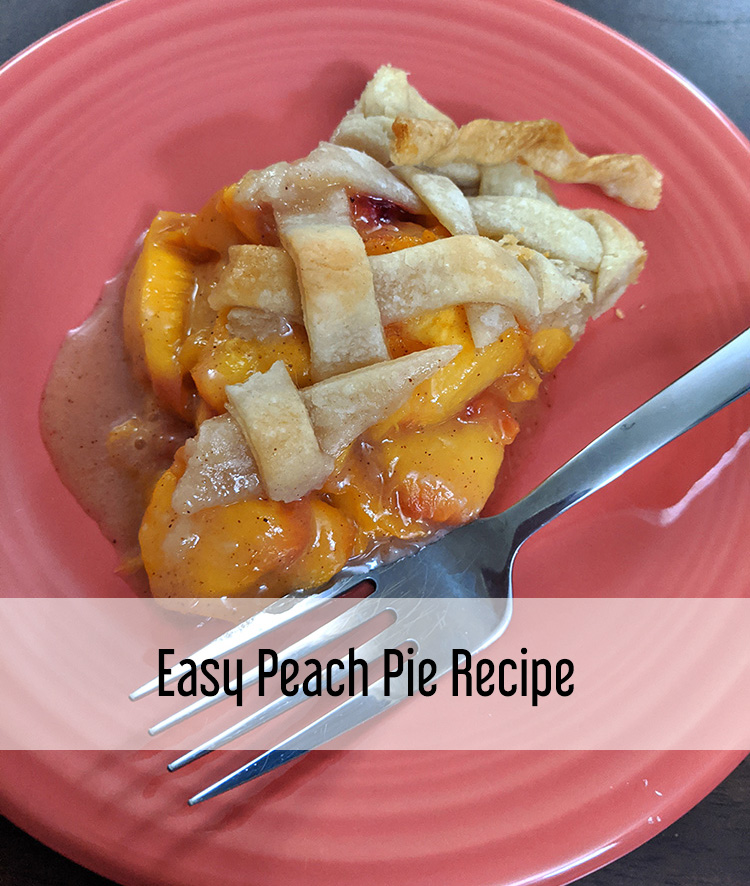 Fresh Peach Pie
For the crust:
2 c sifted all-purpose flour
1 tsp salt (I like sea salt)
1 tsp cinnamon
2/3 c vegetable shortening
4ish tbsp cold water
2ish tbsp vodka, whiskey or rum
For the pie:
5ish c sliced fresh peaches
3/4 c granulated sugar
3 tbsp all-purpose flour
1/4 tsp cinnamon or pumpkin pie spice
dash salt
2 tbsp unsalted butter
Sift the 2 c flour, 1 tsp salt, and 1 tsp cinnamon together in a medium-size bowl. Cut the vegetable shortening in with a pastry blender until pieces are pea-sized. (You can also use a fork for this if you don't have a pastry blender, but I highly recommend a pastry blender).
Sprinkle 1 tbsp of cold water in the corner of the mixture and toss with a fork, pushing it toward the side of the bowl. Repeat with 1 tbsp vokda/whiskey/rum. Alternate between water and alcohol until the dough is throughly moistened.
Form the dough into two balls (one for the top crust, one for the bottom). Use a rolling pin to roll one dough ball out to between 1/8 and 1/4 inch thickness.
Carefully transfer the dough into a pie plate and trim the pastry 1/2 inch beyond the edge of the plate.
Combine the 3/4 c granulated sugar, 3 tbsp flour, dash of salt, and 1/4 tsp cinnamon or pumpkin pie spice together in a large bowl. Add the 5 cups of sliced fresh peaches and mix to throughly coat the peaches.
Fill the pie plate with the coated peaches and dot with the 2 tbsps of unsalted butter.
Add the lattice-top pie crust (click here for a video tutorial). Fold the edges of the bottom crust over the edge of the lattice-top and crimp to seal.
Bake at 400 degrees F for 45 minutes or until the top crust is golden brown and the peaches are bubbling.